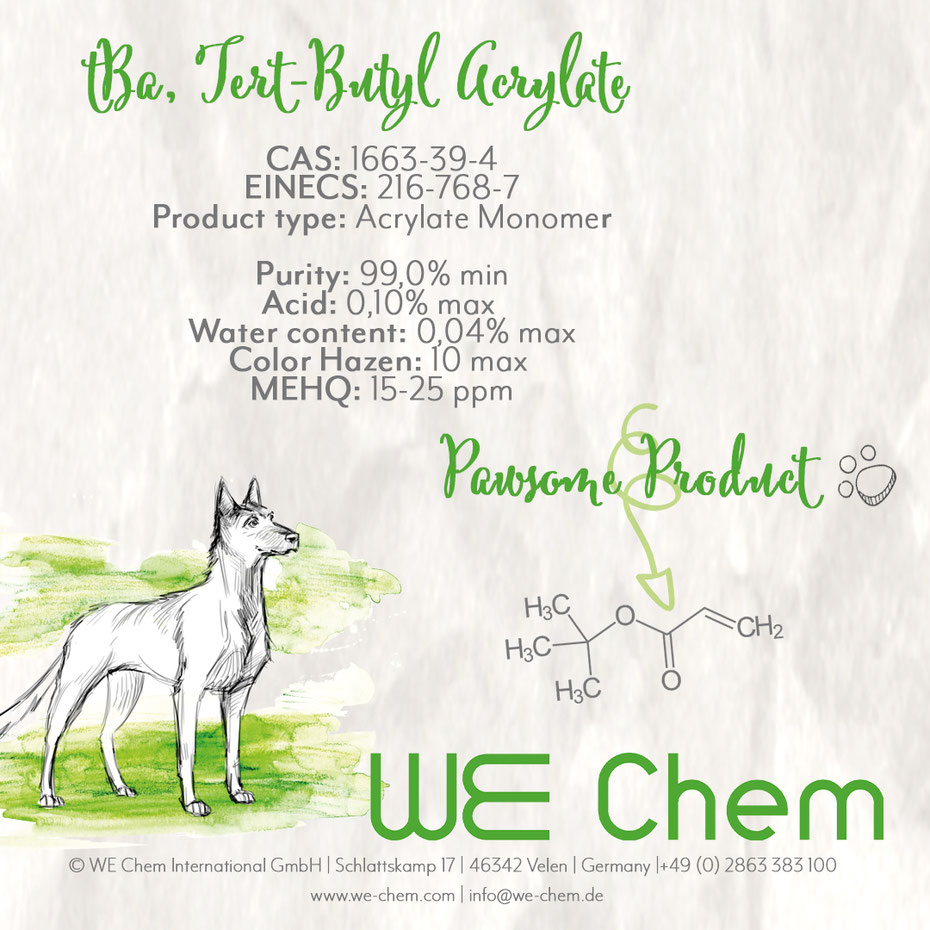 t-BA, tert-Butyl Acrylate
Product type: Acrylate Monomer
Welcome to our new category: Pawsome Products!
WE would like to start with t-BA, tert-butyl acrylate (CAS: 1663-39-4).
tBA is a clear, colorless liquid and forms homopolymers and copolymers. It is an organic chemical compound from the acrylic acid esters.
It is produced by acid-catalyzed reaction of acrylic acid with isobutene.
tBA can be used to react with acrylic acid and its salts, amides and esters, as well as with methacrylic esters acrylonitrile, maleic ester, vinyl acetate, vinyl chloride, styrene, 1,3-butadiene to form unsaturated polyesters and drying oils.
Therefore, tBA is an essential base material for chemical syntheses.
Features & Benefits:
tBA can be used to provide polymers with the following properties:
Chemical resistance
Hydrophobicity
Hardness
Scratch resistance
Adhesion
Heat resistance
High solids
Weatherability
Specification:
| | |
| --- | --- |
| Purity  | Min. 99.0 % |
| Water Content  | Max. 0.04 % |
| Acid Content  | Max. 0.10 % |
| Density  |  0.880 - 0.890 g/cm³ |
| Inhibitor (MEHQ)  | 15 - 25 ppm |
| Color (Pt- Co), Hazen  | Max. 10 |
You are interested in this product? Please feel free to send a message to info@we-chem.de or fill in the form below.
Our team our team will be happy to get in contact with you!